Vi hanno regalato o avete deciso di regalarvi un nuovo smartphone di ultimissima generazione, uno di quelli di fascia alta, ma provando ad inserire la tua vecchia  SIM vi siete accorti che  la scheda non va bene perché necessita di una Nano o Micro SIM? Non disperate.
Con un po' di ingegno potete riuscire a trasformare la vostra vecchia SIM in una Nano o Micro SIM senza perdere ore di  tempo in un centro di telefonia mobile.
Il materiale necessario non è un gran che : un pennarello, un paio di forbici, un foglio di carta abrasiva e una riga. Per procedere all'operazione di taglio dovere scaricare sul vostro computer un modello, sul quale sono illustrate tutte le linee guida per tagliare in modo corretto senza rischiare di danneggiare il microchip presente all'interno della SIM.
IL file PDF è reperibile qui : sim_guide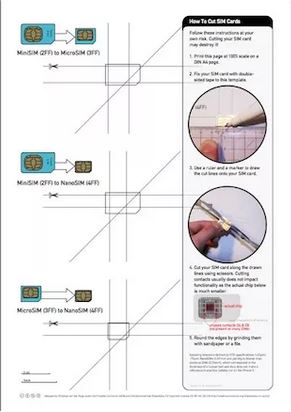 Una volta stampato il documento su un normale foglio A4,procedete appoggiando la vostra SIM su una delle tre posizioni disponibili : Mini SIM to Micro SIM, Mini SIM to Nano SIM oppure Micro Sim to Nano SIM, a seconda delle vostre necessita. Con l'aiuto del righello e del pennarello segnate le linee guida sulla vostra SIM e poi tagliate la stessa con la forbice prestando attenzione a non piegare troppo la SIM.
Una volta conclusa l'operazione di taglio con la carta abrasiva fine passate i bordi della nuova SIM ottenuta e inseritela nel vostro smartphone.
Se tutto è andato per il verso giusto, la SIM dovrebbe essere riconosciuta dal dispositivo come una vera Nano SIM. Per maggiori dettagli e per chiarire eventuali dubbi sulla procedura di ritaglio della SIM, date un'occhiata a questo video :
ISCRIVITI ALLA NEWSLETTER DI PC-GURU.IT
Grazie all'iscrizione ti informerò ogni volta che pubblicherò un nuovo contenuto.
Non perderti nemmeno un articolo!
Iscriviti alla nostra newsletter inserendo la tua mail qui :