Molte persone hanno la brutta abitudine di non salvare i contatti di posta elettronica nella comodissima rubrica di outlook ma si affidano alla cache, ovvero alla funzionalità di outlook di proporre in automatico mentre sciviamo nel campo destinatario "A" gli ultimi indirizzi email che abbiamo utilizzato.
Per fare un chiaro esempio ho cliccato su nuovo messaggio e nel campo "A" ho inserito la sola lettera s :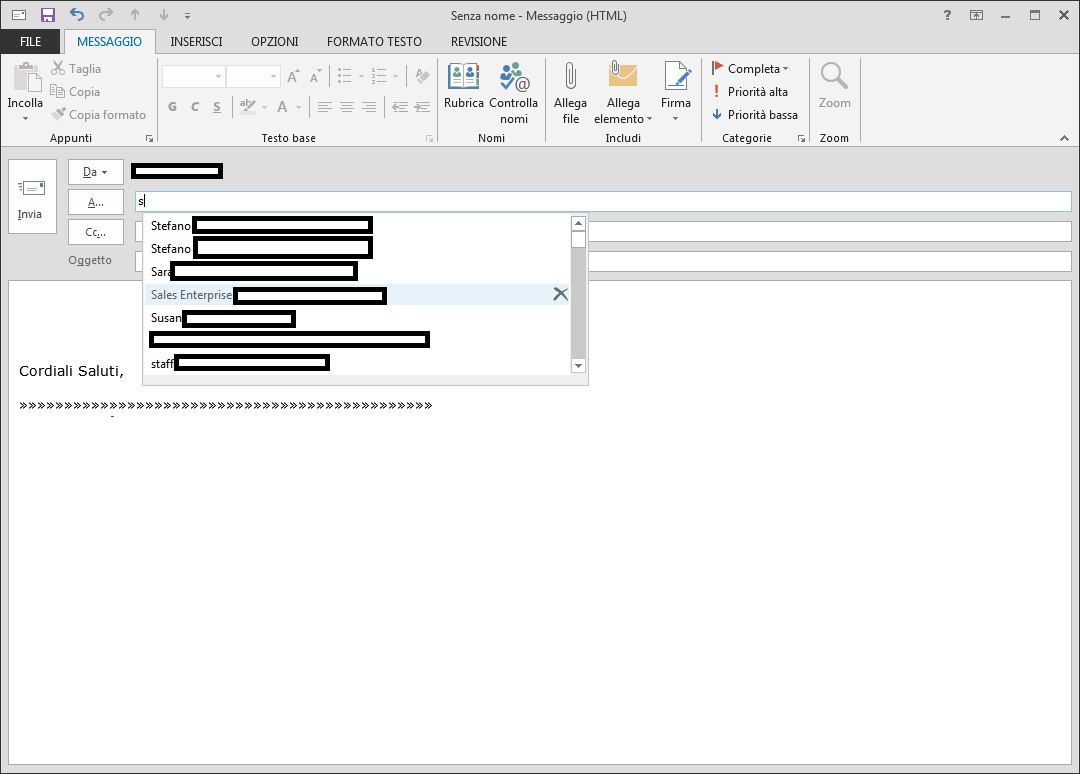 Come sappiamo in caso di guasto al pc o sostituzione dello stesso andreamo a perdere questo elenco a meno che non andremo ad importare oltre al nostro file .pst il file .nk2 nel nuovo computer. Il file nomeprofilo.nk2 contiene appunto la cache di tutti gli indirizzi email utilizzati almeno una volta.
Nel caso facessimo il salto di versione a Outlook 2013 questo tipo di file non è supportato e non basterà quindi sofrasciverlo ma dovremo procedere secondo questi passi :
Per prima cosa dobbiamo recuperare il file nk2, quest'ultimo si trova nelle seguenti cartelle :
Windows XP
Drive:\Documents and Settings\Username\Application Data\Microsoft\Outlook
Windows Vista and later versions
Drive:\Users\Username\AppData\Roaming\Microsoft\Outlook
il file si chiamerà così : nomeprofilo.nk2, se non conoscete il nome del vostro profilo di outlook potete scoprirlo in questo modo:
Click Start, e poi  Control Panel.
Doppio-click su Mail
Sotto Mail Setup , click Show Profiles.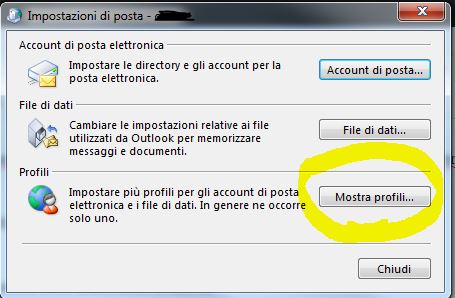 Recuperato il file salviamolo nel nuovo percorso %appdata%\Microsoft\Outlook e come nome assicuriamoci di rinominarlo con il nome del nuovo profilo di outlook es. nuovoprofilo.nk2
Fatto questo potremo importare la cache impartendo da console il seguente comando :
Click Start, and then click Esegui.

outlook.exe /importnk2
Una volta eseguita l'importazione aprite Outlook e avrete di nuovo a disposizione la cache degli indirizzi inseriti.
Vi consiglio comunque di utilizzare la Rubrica Contatti!