Large Exchange mailboxes and the OST & PST file size limit
Microsoft Outlook ha dei limiti pre impostati precisi sulla dimensione dei file di posta elettronica PST o OST che è in grado di gestire.
Tali limiti sono diversi per versione e sono questi :
In Outlook 2007, la dimensione massima del file Unicode ost è limitata a 20GB.

In Outlook 2010, 2013, 2016, 2019 e Microsoft 365, il limite è settato a 50GB.
E' altamente sconsigliato variare questi limiti ma è possibile; con la modifica di una chiave di registro oppure agendo con la modifica di alcune group policy.
L'alternativa consigliata, al contrario è quella di attivare l'archiviazione di posta elettronica di Exchange oppure archiviare manualmente in altri PST mail vecchie o non importanti.
Note: se viene attivata la funzionalità di archiviazione di Exchange ricordatevi che è necessario disporre di Microsoft Outlook Professional per vedere la posta archiviata secondo le policy decise.
Vediamo come variare il limite pre impostato per outlook.
METODO 1 : Modificare il registro di sistema
Aprire regedit.exe e variare le seguenti chiavi di registro utilizzando lo schema sotto in base alla versione di Microsoft Outlook in vostro possesso :
PERCORSO :
Outlook 2007
HKEY_CURRENT_USER\Software\Microsoft\Office\12.0\Outlook\PST
Outlook 2010
HKEY_CURRENT_USER\Software\Microsoft\Office\14.0\Outlook\PST
Outlook 2013
HKEY_CURRENT_USER\Software\Microsoft\Office\15.0\Outlook\PST
Outlook 2016 / Outlook 2019 / Microsoft 365
HKEY_CURRENT_USER\Software\Microsoft\Office\16.0\Outlook\PST
CHIAVI:
WarnLargeFileSize
Don't set this higher than 4090445042 (decimal) or f3cf3cf2 (hexadecimal)
MaxLargeFileSize
Don't set this higher than 4294967295 (decimal) or ffffffff (hexadecimal)

Il primo valore è il numero di MB che un utente può scrivere su un file pst/ost prima di ricevere un avviso che il file è pieno.
Il secondo valore è quanti MB il sistema può scrivere su un file pst/ost
NOTE IMPORTANTI : Questa differenza deve essere almeno del 5% poiché in un file pst viene scritto di più rispetto ai soli dati utente.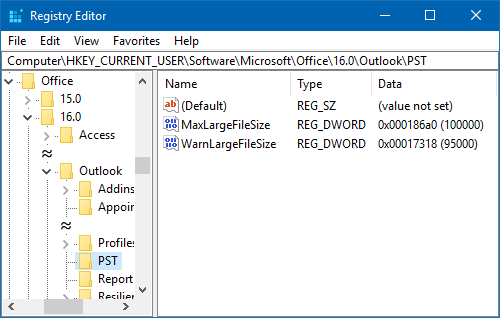 Nell'immagine è stato impostato un limite per 100GB e un avviso a 95GB
METODO 2 : Group Policy
Le impostazioni del Registro di sistema sopra menzionate possono essere impostate anche tramite Criteri di gruppo.
Le impostazioni per regolare la dimensione del file pst si trovano nella sezione Varie-> Impostazioni PST. È necessario modificare le 2 impostazioni seguenti:
Large PST: Absolute maximum size
Don't set this higher than 4294967295
Large PST: Size to disable adding new content
Don't set this higher than 4090445042
ISCRIVITI ALLA NEWSLETTER DI PC-GURU.IT
Grazie all'iscrizione ti informerò ogni volta che pubblicherò un nuovo contenuto.
Non perderti nemmeno un articolo!
Iscriviti alla nostra newsletter inserendo la tua mail qui :