Risoluzione dell'allarme VM MAC Conflict con le repliche di Veeam Backup
Molti di voi si saranno accorti che utilizzando le repliche di Veeam Backup & Replication la console di vsphere ci annoia con un fastidioso alert che indica un conflitto di indirizzo Mac address tra la VM originaria e la VM replica eseguita dal backup.
Cos'è l'Allarme VM MAC Conflict
L'allarme VM MAC Conflict è una novità inserita nel vCenter 6.0 update1.
L'intento dell'allarme è quello di avvertirvi se due vNIC su macchine virtuali all'interno di un'istanza di vCenter hanno lo stesso indirizzo MAC.
Ciò può accadere per una serie di motivi:
Un malfunzionamento del vCenter che dinamicamente ha fornito lo stesso indirizzo MAC a più vNIC.
Errore intenzionale, un amministratore o di un prodotto di terze parti potrebbe aver assegnato staticamente un indirizzo MAC già in uso all'interno dell'ambiente.
Fortunatamente tale allarme è disinseribile attraverso la modifica e configurazione di un apposito trigger.
E' bene ricordare che la modifica del trigger è possibile solo agendo sulla console Web vsphere e non dal vsphere windows client.
Disinserire l'allarme VM MAC Conflict per le replice di Veeam Backup
La soluzione per preservare l'allarme VM MAC Conflict e disabilitarlo per le repliche di Veeam Backup è abbastanza semplice. È possibile modificare l'allarme stesso impostando un'eccezione per escludere le macchine virtuali in replica. Nel caso di repliche Veeam Backup, hanno un suffisso "_replica" all'interno del nome della VM per impostazione predefinita. Se tale suffisso è stato modificato, basta agire di conseguenza.
Per prima cosa colleghiamoci come amministratori nel vSphere Web Client.
Spostiamoci sotto Host & Cluster e selezioniamo il tab Manage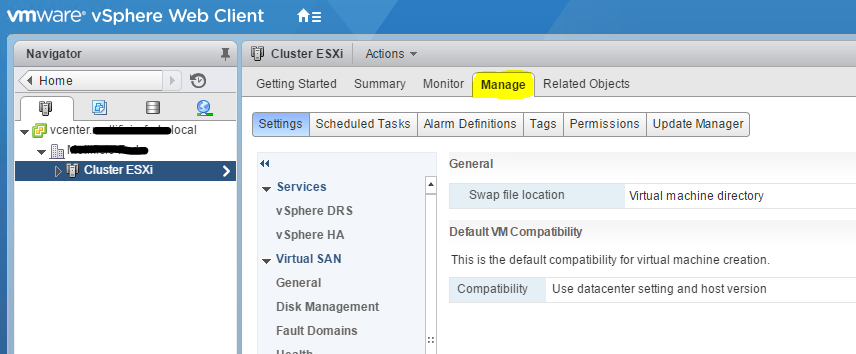 Spostiamoci nella sezione Alarm Definitions
Selezioniamo il trigger VM MAC Conflict e clicchiamo su Edit
Nella form che si è aperta spostiamoci al punto 2 e aggiungiamo una condizione nella sezione "The Following conditions must be satisfied for the trigger to fire."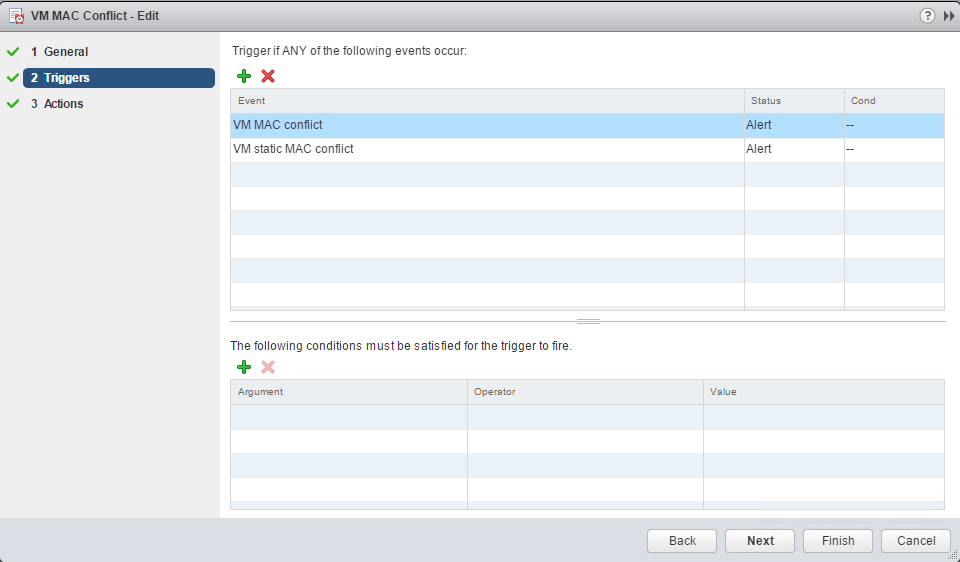 aggiungere una condizione che dice il nome VM non finisce con "_replica"

Una volta applicato, l'allarme scompare per la replica VM.
ISCRIVITI ALLA NEWSLETTER DI PC-GURU.IT
Grazie all'iscrizione ti informerò ogni volta che pubblicherò un nuovo contenuto.
Non perderti nemmeno un articolo!
Iscriviti alla nostra newsletter inserendo la tua mail qui :