Con il nuovo sistema operativo Windows 8 o Windows 8.1 si potrebbero avere problemi con le vecchie connessioni VPN PPTP. Spesso ci si trova davanti all'errore :
Errore 850: Il Tipo EAP (Extensible Authentication Protocol) richiesto per l'autenticazione della connessione non è installato nel computer in uso.
oppure se abbiamo il sistema operativo in lingua inglese:
Error 850: The Extensible Authentication Protocol type required for authentication of the remote access connection is not installed on your computer.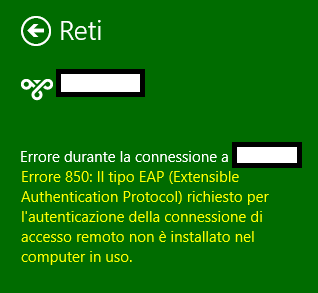 La risoluzione di questa anomali è semplice ed immediata; bastano pochi click, vediamo quali.
Modifichiamo la connessione VPN andando in :
Pannello di controllo\Rete e Internet\Connessioni di rete
e clicchiamo con il tasto desto sulla connessione VPN e scegliamo proprietà.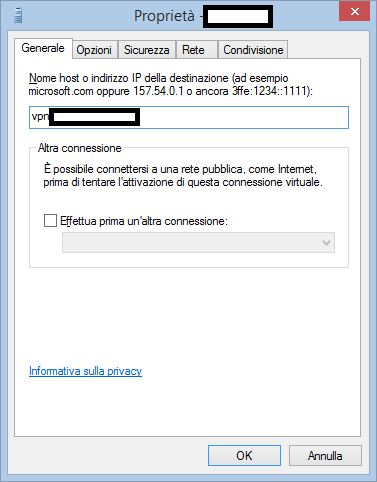 Scegliamo ora il tab Sicurezza,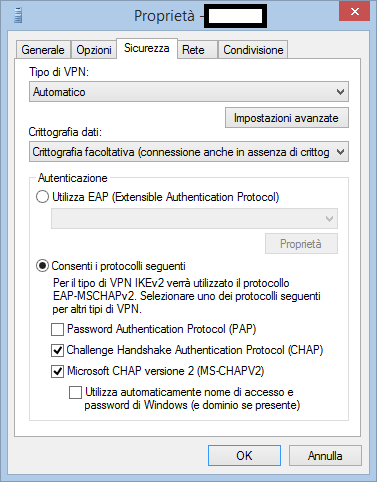 Impostiamo i protocolli :
Challenge Handshake Authentication Protocol ( CHAP )
Microsoft CHAP versione 2 ( MS-CHAPV2 )
Confermiamo con il tasto OK.
Se tentate nuovamente la connessione questa dovrebbe avvenire senza ulteriori problemi.